Videoletter to Harvey Milk (2013) 03:38
An interpretation of a letter written to gay activist Harvey Milk.
Submitted pictures and videos, with photogram animation and super 8
This short film was commissioned for Festival delle Lettere Milan, Italy, October 2013. Three filmmakers, including Helen Nias, were given a letter written to Harvey Milk and asked to interpret it using video.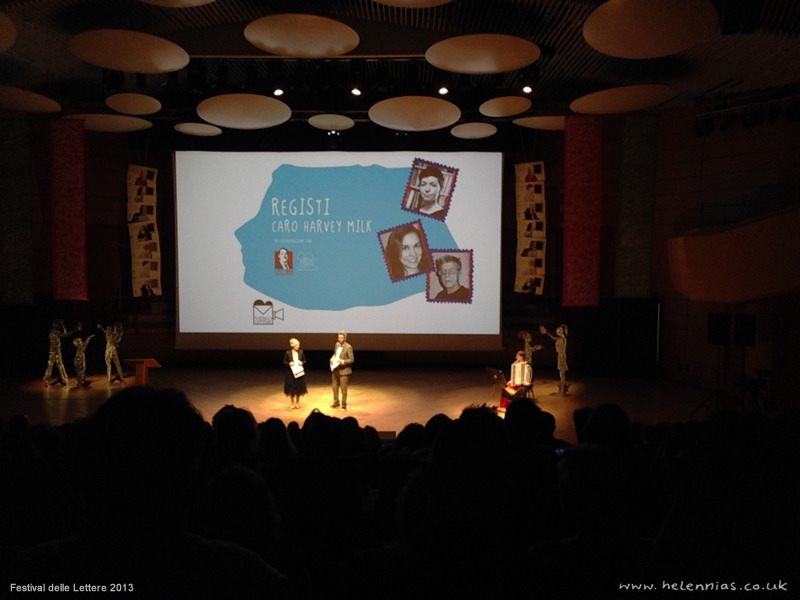 Helen's contribution combines her interest in language and words, with the feelings of positivity that Benjamin Shaffer's letter to Harvey Milk encompasses.
Shaffer writes that if everyone lived their life with with as much integrity and positivity as Milk did, the world would be a much better place. It is these values that Milk displayed--openness, love, and a hope for freedom and fairness, whatever a person's background--that the videoletter hopes to evoke.
The film is also a brief study of letters as physical or digital objects. Helen asked participants to submit photos and video clips of things that represent what makes life good to them. These images appear in the place of the words from the letter as the narrator reads. At the same time, photograms created from super 8 footage slowly reveal its imagery on the right hand side of the screen.
Helen at the festival in Milan, 2013
Thank you
Philip Ilson, Ed Weston (music), Conor Honan (voiceover artist), Brad Purnell (After Effects advice), Nicole Distort and everybody in the Festival delle Lettere team, Andrea Puntino of the Harvey Milk Foundation in Europe, and all those who sent images - this film could not have been made without you.